Home>
Village Pages>
Cold Ashby>
Village News
Don't forget to check our Events Diary for more information on events in all our villages and surrounding area.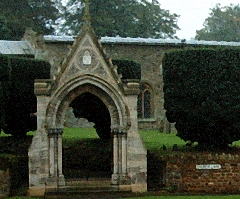 Top of Page
OPEN GARDENS MOVE ONLINE
Sadly we have decided not to hold Cold Ashby Open Gardens this year (originally due to take place on the last weekend of July 2020). In lieu of this year's event, we would like to invite Cold Ashby residents - plus readers of Village Link, wherever you are - to post your garden photos on our Facebook group 'Cold Ashby Village'.
We will of course be back in 2021 for what will be Cold Ashby's 30th Anniversary of Open Gardens in aid of St Denys Church. We are putting all our energies into planning a fun weekend of beautiful village gardens, stalls, games and entertainment. Do join us next year on 24th & 25th July and let's make it a weekend to remember!
Local news from the Northamptonshire villages of Cold Ashby, Cottesbrooke, Creaton, Guilsborough, Hollowell & Teeton and Thornby.
Last updated Friday, July 31, 2020
Copy deadline for next printed edition: Sunday 6th September 2020